Air pump
YASUNAGA AIR PUMP INC.
Air pump with low energy consumption
leads great future potential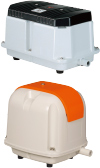 These products have won a high reputation in a wide range of fields centered around living environments, as well as in the industrial and medical fields. A considerable number of units have been sold in the United States, Europe, and other parts of the world.

Disposer
YASUNAGA Clean-tec Corp.
Unique comprehensive disposer system
manufacturer in the industry
We have developed disposer systems that contributes to the solution of the garbage problem. We are committed to water issues and believe that water should be returned to nature in a state of purity. We are making efforts to revive water, the source of life for all species, and the nature.