Yasunaga proposes the optimal solutions for automation and manpower saving
Starting with machine tools for sewing machine, Yasunaga has delivered many machine tools for boring/drilling, slicing, assembling, and inspection to the automotive, semiconductor, and electronic parts industries for more than half a century.
Yasunaga has pushed the limits of what machine tools can do in a new era toward the realization of carbon neutrality. Yasunaga proposes optimal solutions for customers' various needs by offering a wide range of products including both standardized and customized machines.
Our solutions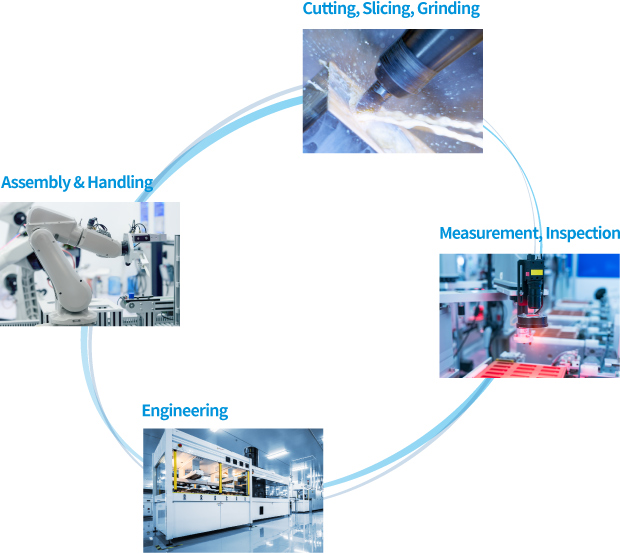 Our advantages
Market research

Development

Design

Production
Machine tools
Machine tools based on our delivery record and sustainable technical capabilities

With more than 70 years specializing in machine tools, Yasunaga has continued to grow based on the core manufacturing value we have cultivated fused with technological change and progress.
We offer equipment and methods to solve your problems quickly, helping you solve current and future problems.
Wire saw machines
Leading the advancement of slicing with our unique wire control technique

Yasunaga's wire saws can make highly-accurate and thin slices from large volumes of brittle and hard materials. Our machines can be used in various fields, such as next generation semiconductor wafers, chemical compounds, sintered materials, and crystals. As a pioneer of wire saws, Yasunaga pursues the possibilities of slicing and leading its evolution.
Inspection and measuring machines
Our creative inspection and measurement techniques solve manufacturing issues

Starting from semiconductor package AVI machines, we offer a lineup of various AVI machines for electronic and automotive components with good quality control. We provide optimal proposals based on consideration of the optical environment, with algorithm development according to your workpieces, using our extensive experience and expertise in 2D/3D measurements and various defect inspections.
Assembly machines
Solutions for automation and manpower saving

We produce automated/manpower-saving equipment based on hands-on experience and expertise.
The strength of our machines is the capability to customize according to customers' unique requirements. We offer optimal equipment for various needs, from solving current problem, such as process integration and cycle time improvements, to multiple process automation.